Community Involvement
Campbell Companies is committed to being a valued neighbor in the communities in which our employees live and work. The Campbell Companies routinely donates time, money and machines to support various community initiatives including youth sports, food drives, rodeos, cleanup efforts, cultural and educational initiatives and more. Serving the communities in which we live and work, it's what we're built to do.
UTAH FOOD BANK
Wheeler Machinery Co. has teamed up with Utah Food Bank to help feed the 1 in 6 Utahans at risk of missing a meal each day. Utah Food Bank asks people and companies to get involved in three ways: Give Food. Give Time. Give Money. To support these three ways of giving, Wheeler has committed to donating 2,000 pounds of food and 1,000 volunteer hours plus raising $50,000 annually. Funds are raised via voluntarily employee payroll contributions which Wheeler generously matches 2 to 1. To support employees in their volunteer efforts, Wheeler provides each employee with 4 hours of paid time off to use for community outreach activities.
40% of Wheeler's workforce participates in our Utah Food Bank partnership via voluntary payroll deductions and/or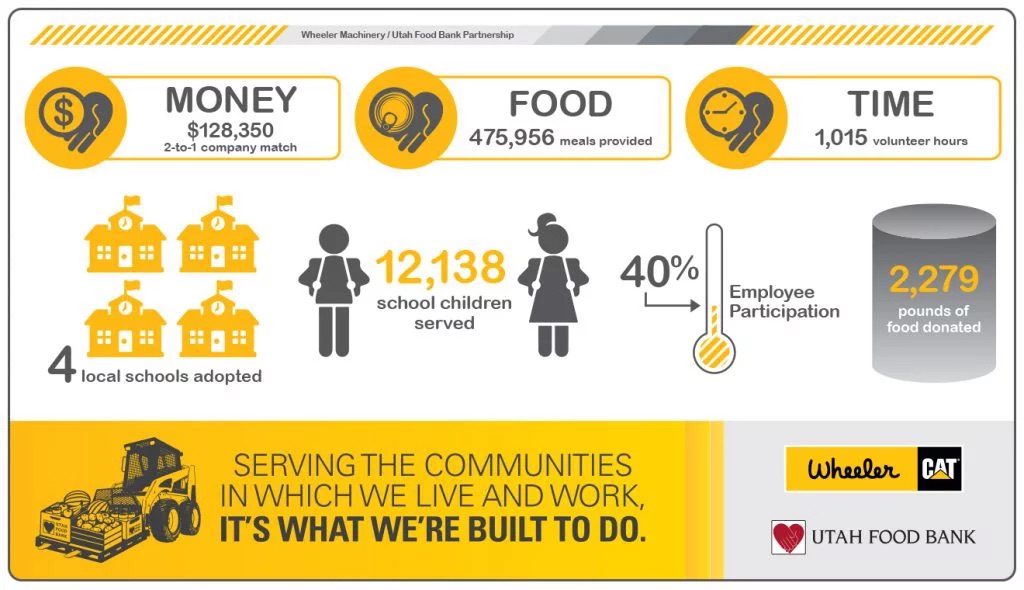 volunteer service or food donation. Wheeler sponsors 4 Mobile School Pantries providing food assistance to 12,138 kids dealing with food insecurity throughout the school year. Wheeler also participates in a monthly shift at Utah Food Bank headquarters, and our branch store employees volunteer and donate food to local food pantries in their immediate communities. In 2016, 1,015 volunteer hours, 2,279 pounds of food and $128,350 was donated by Wheeler and its employees to fight hunger. You're welcomed and encouraged to join Wheeler employees for one of our upcoming volunteer shifts. Everyone who comes gets a volunteer T-shirt! Want to get involved? E-mail info@wheelercat.com or call 801-978-1650 for details.
CHOICE HUMANITARIAN
For three years, Wheeler Machinery Co. partnered with CHOICE Humanitarian as its flagship charity. This partnership's goal was to eradicate extreme poverty by bulldozing the barriers that prevent rural villagers from attaining economic development and self-reliance. Over the course of Wheeler's partnership with CHOICE, which began in the summer of 2012, Wheeler raised $675, 568 and sent 20+ employees on two fully-funded humanitarian expeditions to Mexico and Bolivia. Employees received personal paid time off during their expedition abroad, and all expedition-related expenses were paid by Wheeler (food, lodging, airfare, expedition fee). The partnership was termed "Bulldoze Barriers: Make the CHOICE to end Poverty". Funds were raised via employee payroll contributions with a generous 2-to-1 company match, fundraising events such as the annual motorcycle ride and charity auctions. Additionally, Wheeler funds have been matched by The Caterpillar Foundation which will match Cat dealer donations up to $100,000 annually for environmental and sustainability conservation projects. For the last two years, Wheeler's donations have qualified for the $100,000 Caterpillar Foundation annual match for CHOICE's Wheeler funded work to plant seeds and transplant 100,000 trees in the Polochic region of Guatemala, as well as providing training for improved forestry and agricultural practices, and build 500 eco-stoves.
"I applaud Wheeler Machinery for their commitment to end poverty – in our backyard and abroad. Wheeler Machinery employees are part of the corporate movement to create lasting impact for those living on less than $2 a day. I'm humbled and inspired to partner with such a forward-thinking company," says Leah Barker, CEO of CHOICE Humanitarian.